"Romeo's Story"
Romeo's story begins when he was around 10 months old living in a home of physical and verbal abuse by his young owner and children. One day Romeo's owner kicked him and Romeo ran away into a near by wooded area. He stayed in that area for nearly 2 weeks before a neighbor got him to come out enough to catch him and bring him to her home. She fed him and cleaned him up. This woman is a friend of mine and on a visit to her house I met Romeo the day she found him. My friend begged me to take him, as she could not keep him. I told her that I couldn't because I already had 4 dogs. But my heart melted away looking in his sad & frightened eyes. I could see he had lost his trust in humans and feared them. I knew being a Pit Bull, if he was brought to a shelter in his state he would surely be put down. When my friend told me Romeo's owner had abused him and why he ran away, I was so angered by the injustice to this poor creature. Than when she said his owner had come by and told her he would come back in a week or two to get Romeo and give her $20 for feeding him I just could not let him go back to that life. She told Romeo's owner that Romeo had run away again and I took him home with me. It took me many months to rehabilitate Romeo. He was afraid of everything & everyone, but me. We had formed a bond of love and trust from the very start. I think he knew I rescued him. Over the month's he became very attached to me and started to have separation anxiety whenever I would leave the house. He would chew any and everything. This is when I thought of bringing him a couple of days to a doggie daycare to play with other dogs and get use to being with out me, but seeing I always came back for him. Well….one day a worker at the day care left a door open and Romeo got out into the street. He was gone for 4 of the worst days of my life. My Husband and I along with 8 wonderful friends searched for Romeo sunrise to sunset. I felt so helpless and felt I had let Romeo down. You see I had promised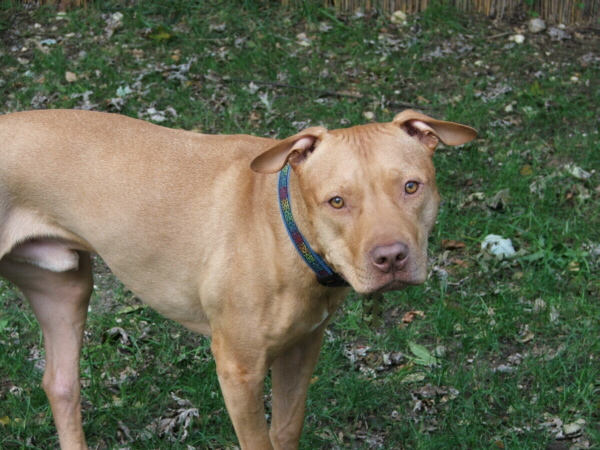 Romeo he would NEVER be abused again, but now….what if some one else found him? What if they tried to fight him? What if he gets hit by a car? All these terrible things go through your head. All I know is that my heart was hurting and I wanted my Romeo home again. Finally after searching everywhere and putting 400 flyers out with a reward, we got a call. A young girl had found him in the basement of her apartments….but you know what really gave me goose bumps…..Romeo was less than a mile from home! He had crossed a 6 lane highway and through woods. That's when I knew I had done the right thing the first day I took him home. The helplessness and heartache I felt for those 4 long days I will never forget, and that is why we started this lost dog search & rescue team, so we can reunite as many lost dogs with their owners as we can.
Our reason for starting the "Lost Dog Search & Rescue Team" is to try and help find lost dogs before harm could come to them.
Back in 2008 my Pit Bull "Romeo" escaped from a local doggie day care in Toms River (Pampered Pet). Through negligence, a door was left open by one of the attendants and Romeo bolted out of the facility and went running into the nearby woods. 8 of the best friends in the world must have seen the helplessness and despair in our faces and joined us, relentlessly, in a 4 day search literally from sun-up to sun-down to find Romeo. Well to make a long story short Romeo turned up about a mile away from our home 4 days later, battle worn and covered with over 200 ticks. I cannot express in words the feeling you get when something like this happens. Its a Helpless feeling, a feeling of despair that turns into desperation as every second passes.
Recently while checking out the local Lost & Found posts on Craigslist I came across a posting for a lost Chihuahua named "Luna" and forwarded it to my wife. The next thing I knew my wife Debbie was on the phone with Luna's owner and then told me to get ready that we were going on a search for a lost dog. We drove over to Manchester Township and met with Elli, Luna's Mom, and immediately I saw that same look of distraught and despair in her eyes that Debbie and I had just a couple of years earlier. I have to say even though we had just met Elli I had a flashback of Romeo's ordeal and I felt that we could not give up the search till Luna was safe at home. We enlisted the help of our neighbor, Pam, and began searching using what we had learned in the past. Luna was found the next morning by her owners several blocks away from her home. After receiving a phone call from Elli that Luna was recovered and safe a feeling of elation came over us knowing that the little Chihuahua named "Luna" was safe at home again. Now we want to help others in that same situation and that is why "We do not charge for our services. Our aim is to re-unite you with your lost pet as fast as possible" We are not doing this for money just for our love of animals.