Lost Dog Search & Rescue
DON'T KEEP YOUR DOG IN A HOT CAR
What you should do if you come across a dog locked in a car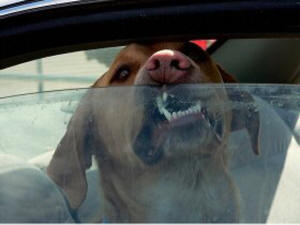 1; Call you local Animal Control or Police. Copy down the License plate and record the time and date. Take pictures If possible.
2; Stay with the animal and have someone go into All the local stores and have the person paged.
3; If dog does not looked distressed or in trouble don't get the dog excited by standing around the car this will only make it worse.
4; If the dog is panting and at the window able to get air don't put your hands in the window.
5; If you notice that the dog is heavily panting and can get water to the dog via a squirt bottle give the dog some water.
6; By this time the authorities should have arrived.
7; Please understand that not all dogs in cars are in trouble some owners keep the air running and people still call the Police because they feel the person is wrong. Being wrong in your eyes doesn't mean the dog is being neglected.
8; If the temperatures is 80 degrees outside, inside a car even with the windows partially opened it can reach 120 degrees within 15-20 minutes. And the dog can suffer irreversible organ damage or actually die. If the dog retrieves to the floor of the vehicle this is a sign of distress because the dog is going to the coolest possible location of the vehicle.
9; Understand that if you approach the owner of the pet with a mad or angry tone that it can result in a confrontation.
10; The best thing you can do is just record the license plate and have someone enter all the stores and have the owner located. Let the authorities deal with the legal side of the Issue.
BOTTOM LINE IF ITS A VERY HOT DAY OR VERY COLD DAY JUST KEEP YOUR PET HOME IN THE SAFETY OF YOUR HOME.
Animal Abuse Hotline: 1-800-582-5979